Hey Eyman!
This page was made specifically made for you!
I saw your "not-so-hidden assignment" and thought about what in the world a "creative" way to introduce myself would be. This is my site (I've actually designed and developed everything myself) but I'm still working on how I want to portray myself so you're the second person I've shown this site to. It's quite a hodgepodge but I think you might enjoy looking at the Principles and Resources pages. As a quick get to know me this is a post specifically made for you.
In 2018 Uber's Brand team started rethinking their brand positioning and identity system. Uber's Head of Design Michael Gough had developed 77 ideas around his design thinking and used Uber's new system to share his thoughts on design. The design team decided to put these ideas into a book focusing on designing for patterns.
"Pattern recognition is an essential skill for creators. See the patterns in user behavior and how to change them. Understand the implicit patterns of use, layout, and function in your work. Then, make them explicit." — 77/77 Things
The book is not for sale. The only way to get a copy is to go to an Uber design event or by joining Uber's design team.
This display of modernist design thinking wrapped within a white embossed cover was palpable. I searched for hours to no avail. I could not get my hands on the book. Frustrated I would leave empty-handed an idea popped into my head. Contained at the end of the book was a fold-out poster with all 77 Things laid out to scan over. I can make this myself, I thought triumphantly.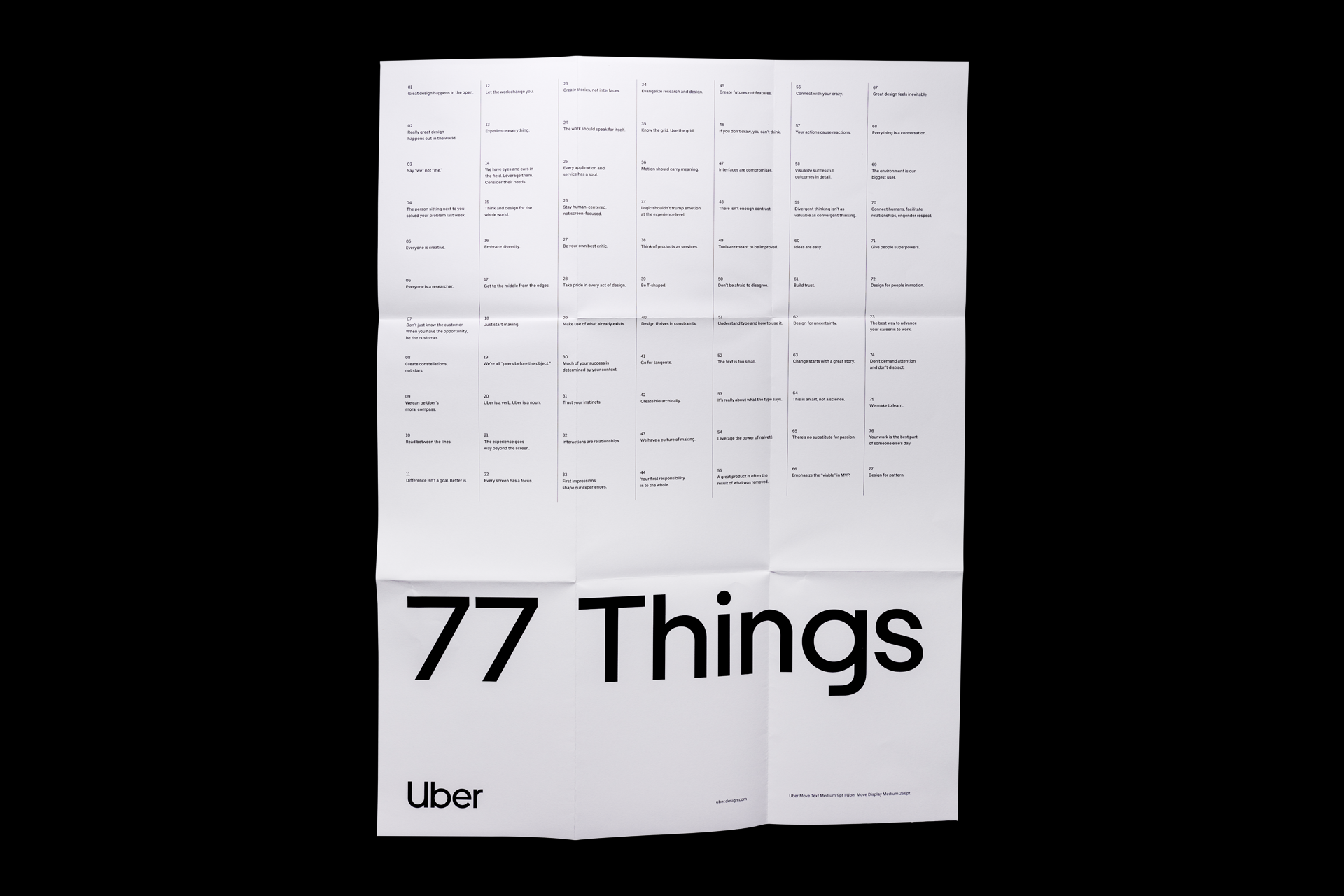 And I did. I ordered three 18x24 posters (I figured I can't be the only one who would want this poster) and was overjoyed when they arrived. The print quality turned out to be subpar but nevertheless, I still love the poster.
I thought you might find this valuable or intriguing in the least. Let me know if you want one of the posters ;)
Links for you
Recreated 77 Things poster PDF
Google Sheet containing all 77 Things
More pictures of this beautiful book
Post scriptum
I emailed you over a year ago about the MeWeUs process so I guess I'll finally see some of that in class! No hard feelings though.