Brand, Content, and Reach
The following is a framework I've developed and modeled from trying to find a complete stance on business needs.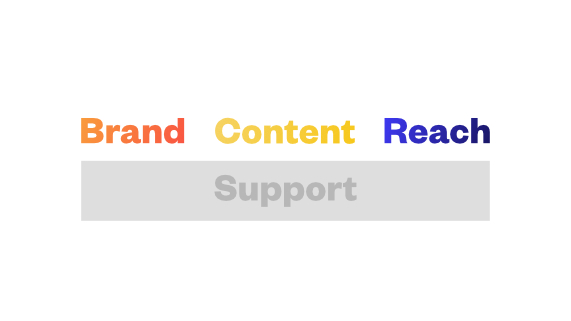 Every business has three core needs: brand, content, and reach.
I relate a part of the development of this framework to my own development across design, development, and marketing. While not explicitly equivalent, brand has a lot of focus on design, content has a lot of focus on development, and reach has a lot of focus on marketing.
It's not that much of a stretch to refer to these three pillars as such:
Brand Design
Content Development
Reach Marketing
Although, I feel the additional verbiage detracts from the simplicity of brand, content, and reach.
No brand: no internal direction or reason for anyone to care.
No content: no way for anyone to learn about your story.
No reach: no one to find your content.
Businesses start by building a brand, then build out content, and then go for reach.
It doesn't make any sense to make a key and then run around looking for a lock to open. The only productive solution is to find a lock and then fashion a key.
Customers and true fans work start this framework at the other end. They come across you through reach, then they make their way through your content, and then become fans of your brand.
What's part of your Brand?
A story worth telling
Messaging/positioning
Reviews
Logo/identity design
Iconography
Design system
What's part of your Content?
Website
Social media posts
Blog posts
Photography
Videography
Illustration
What's part of your Reach?
Word-of-mouth
Shares
Links
Funnels
Ads
Within this framework, there is a third factor that acts not as a pillar but as the base of the other three pillars. And that base is support.
What's part of your Support?
Tracking/analytics
Hiring
Training/coaching
What does successful Brand, Content, and Reach look like?
The best way to sell to, brand, persuade, or inspire people is to condense your idea down to Two Words. Thus I will try to encapsulate what success looks like for each of these pillars within two words.
Successful Brand results in a consistent vision.
Successful Content results in getting the attention of the right people.
Successful Reach results in the change you seek to make.